Electric Convenience – The hottub that is always ready!
Enjoy a warm Størvatt Spa at any time of the day? Suitable for every garden, thanks to the natural Red Ceddar wood.
This is possible with the electric version of the original Størvatt!
Size
The Størvatt Spa comes in 3 diameters:
150 cm (4 persons):    € 9495
180 cm (6 persons):    € 9995
210 cm (up to 8 people): € 10.595
Massage jets and bottom bubbles
Optionally, the electric Størvatt can be completed with6 jets in the wall or a bubble system, app control and LED lighting.
Insulation Cover
To customize your Størvatt completely in your style, you can choose from 8 colors for your hot tub cover. This cover has an insulating layer. You can also opt for a completely red ceddar wooden lid on your hot tub
Placement
Størvatt is supplied assembled as standard. The only preparations you have to make is a stable flat surface, an electrical outlet. Immediately after delivery you can fill and enjoy your bath!
Technical specifications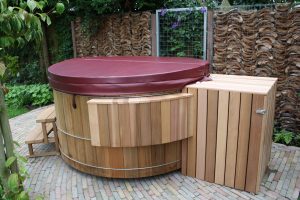 – Balboa 1 touch button operation
– heating 3kw
– Cartridge filter incl skimmer and bottom extraction
– Disinfection: UV light
– Jets in the wall – option € 2000
– Air bubble system – option € 1250
– LED lighting – option € 375